Home

>

Interviewing within OneLogin Engineering Team
Interviewing within OneLogin Engineering Team
helena.soukupova | September 16th, 2021
---
So, you have applied for a role with OneLogin Engineering (or you are thinking about it), but you want to know what you're getting into. Don't worry, you're not alone. Our talent team often receives questions from candidates, like:
Who will I be interviewing with?
What types of questions will they ask?
What will they be evaluating?
Will there be white-board coding, technical challenge part, or any other related step?
What should I focus on?
What's the process like and how many steps?
While some companies may be hesitant to share such information, OneLogin wants to be as open as possible. We understand how daunting and nerve-wracking job interviews can be. As a company that values curiosity, drive, and bold decision-making, we appreciate candidates that take the initiative and reach out. We also value transparency and direct communication, so we welcome questions and are happy to share information. Interviewing for a job is a two-way street after all!
The following steps describe what you can expect when interviewing at OneLogin and how we think about each of the steps.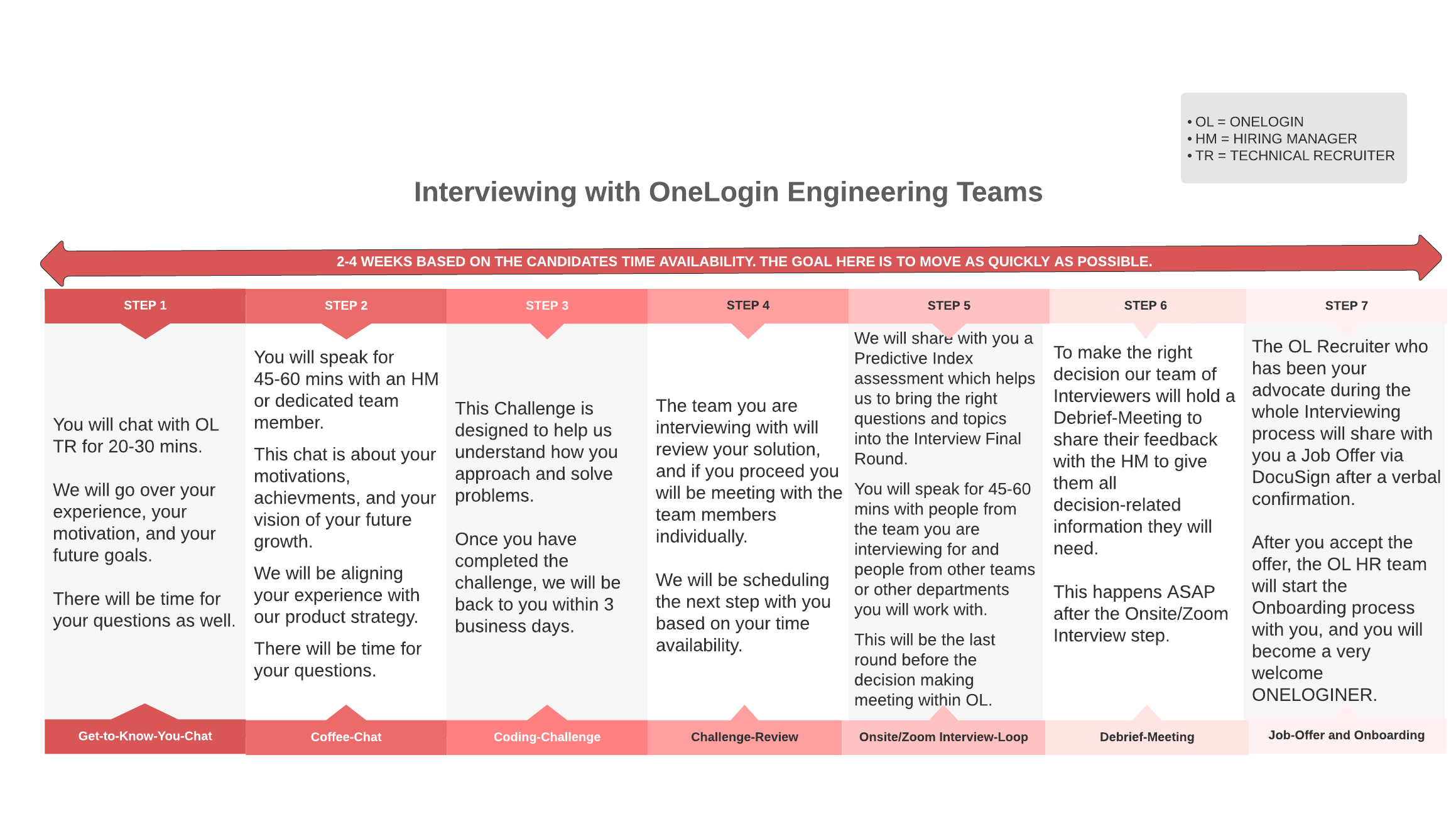 Picture - Overview of the interview process
Step one: Initial call with a recruiter
After a candidate has applied to an open role, a recruiter reviews their resume and reaches out to schedule a 30-minute call, to assess if they are a good fit for the position.
During this call, our primary goals are to learn as much as we can about the candidate. We check for two things:
Alignment between the role's responsibilities and the candidate's experience
Alignment between what's important to the candidate (growth, work culture, etc.) and what OneLogin offers
We discuss why the candidate is in the job market, the environment they work best in, the dream current and future role, and how their experience relates to OneLogin. We also use this time to answer any questions and provide a brief overview of OneLogin's history and culture. We go over products we're working on, structure of the team, role responsibilities and challenges, and perks and benefits offered.
Basically, we sell our team, the exciting and challenging things we're working on, and how great our culture is.
Step Two: "Coffee chat"
Our hiring manager (HM) interviews are 45 - 60 minutes long and are the second step in the process, the HMs are trying to identify:
What the candidate can bring to their team ("What can you do?")
Whether the candidate is a good teammate that's willing to learn and adapt ("Do we get along? Is it fun?")
If the candidate has the right technical, interpersonal, and communication skills needed to be successful in the role and at OneLogin ("Is there a fit?").
What we discuss: A candidate can expect a HM to provide more specific and in-depth information about the company, about the team, and what they're working on, including what the person in that particular role would be working on. The HM will also go over how the team works together, challenges they face, the growth and outlook for the team, and how the role fits into the team and company. HM is also looking for your motivation to work at OneLogin. There is space for many of your questions, and you might find you are enjoying your coffee with HM for more than 1 hour and there is still a lot of stuff you can chat about.
Step Three: Homework assignment
For all roles within our Engineering team, we use a homework technical assignment to determine if a candidate has the practical skills required for the position and to provide us ground for skill level assessment (i.e. coding, design, communication) on practical tasks.
Note: Skill levels are an important part of hiring at OneLogin, and our compensation and career development is built around them. We aim for clarity around growth and career development, so we can ensure that everyone is compensated fairly.
Our assignments are designed in-house and are specific to the role, so they reflect actual projects or challenges that our team works on and the job responsibilities that the candidate would have. Usually, the HM is cc'd to be ready to answer any related question from you. Once an assessment is sent out, candidates have as long as needed to complete and submit a response. That said, we ask for completion ETA and are looking for your time delivery towards the commitment, communication during solving the assignment, and, of course, the final result.
Once you complete, the team you are interviewing for the role reviews it, and we will be back to you within 3 business days with the result and the next steps.
Step Four: "Onsite" interview
Prior to the Onsite/Zoom interview round, we have our candidates complete a Predictive Index test which helps us to find the best fit candidate from a behavioral perspective. Once this step is finished we will schedule the final round of interviews with the candidate.
The onsite interview typically consists of 3-5 rounds. The interviews are conducted in one of our offices or through zoom video calls and each is about 45-60 minutes long. Typically, candidates meet with team members that they'd be working with directly, and one team member they'd work with indirectly. They also meet one-on-one with one of our VP's of Engineering.
If a candidate has made it to this point, we're pretty confident that they'd be a good fit for the team, so the main focus is to test candidate skills and get to know the candidate even more, and make sure that OneLogin is a good fit for them.
This is also our opportunity to showcase more of our culture, plus provide the candidate with a holistic view of working at OneLogin.
After this step, we conduct a hiring team meeting to share feedback on the candidate. This usually happens within 3 business days after the final round and this is the step where the hiring manager puts together the job offer.
That's our hiring process!
Ultimately, our hiring process is designed with the candidate and their time as the utmost important factor. We know how exhausting and tedious the hiring process can be while you're also juggling other interviews, your current job, and life in general. Our goal is to get to know you and the things that are important to you to determine if OneLogin is the place where you can grow and expand your skill set while moving our products and company forward.
---
---